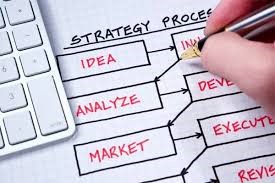 According to the latest stats, approximately 40 million people have lost their jobs since the outbreak of pandemic Covid-19. It is sad news, but there is a silver lining for those who want to change the fate of their own lives and their families, you know what! Entrepreneurship, yes you heard it right! There would be and there are many people who are turning towards small businesses. Now the challenge is budget to market their businesses, well it is an old candy in a new wrap, but guess what? This new wrap is even cheaper. Online advertising tools and marketing is a cornerstone for these new emerging and existing small businesses.
The following are the key benefits to harness the power of online marketing or digital marketing?
Relevance: Mostly online marketing is directed to individuals, not masses. You have chances to show up at the right place, time, and moment. E.g. it is 2 am and you have craving for a beef burger, chances are you try and search "restaurants near me". So the search display ad is only shown to that specific individual and none other, promising conversions.
Control: While running your advertising campaign, you are in control. Let's say if you have promoted your post on a social media campaign by selecting a geographic area and demographics, but you experience that most of the audience is not as per your liking. You are in control to twist your campaign without wasting your allocated campaign budget.
Timeliness: Through online marketing, you reach your customer in real-time, when they are in most need of your services. Right people, at the right place and right time, thus online marketing promises timeliness.
Results: Online marketing is result-driven, you calculate each campaign based on metrics like what was the reach of your audience to a particular post or campaign, what was the cost per click or cost per conversion. This an entrepreneur, small business owner, or a marketing manager is balancing every aspect of the marketing budget in the light of return on investment. 
Now let us have a look at 10 amazing online marketing techniques that small businesses can implement locally. Beal marketing has a good researcher for you, as they are considered influential and game-changers by online marketers like Neil Patel, Moz, HubSpot, and other gurus.
Make sure you show up on searches
It seems easy saying OKAY! What is the big deal! We shall do some SEO and we are right on the track. You are right, but it is a lot more than just SEO outsourcing. You have to be on the toes and learn science. It starts with you adding your products once your website/ shop is up and running. The content of your website has to be well worked out before going live. Only Google shows up 100 Billion searches per month. Let us play a game, choose your favorite keyword "Restaurants near me" and see how many searches Google is showing up within microseconds.
At my place it says: About 1,580,000,000 results (0.91 seconds) ??

What does that mean? It proves that you have to be geek kind of a small business owner, to win in this new digital eco-system. Which is becoming even more challenging after pandemic when normal businesses are switching to online. It leads us to our second point which is content strategy.
Content Strategy
You have to plan things before time. Thinking of your content today and uploading it today is too orthodox and obsolete.
Use Evernote–
This amazing mobile app will help you take notes (recording, images, videos, URLs, etc.) all in one place and you can easily share it with your team. So it is a game-changer in gathering data for your content and synchronizing when needed.
2. Use Clickfunnels–
Russel Brunson is a mastermind, he has nipped the evil in the bud, why small business owners/ entrepreneurs lose business is because they don't know where their customer is traveling in the real-time. If you are a store owner, you can see your customer walking in and talking to you. But in online business/ online marketing you can't see that, sales funnel and more precisely clickfunnels helps you follow up your customers who might have visited your website and send them highly customized messages through desktop notifications, social text, and emails.
3. Use Mailchimp–
Once you maintain your customers' data by using amazing tools like Hubspot (https://www.hubspot.com/) or Zoho (https://www.zoho.com/crm/), now it's time to get business out of your 20% loyal customers by sending them emails about your new offers or by sending them targeted messages like one with clickfunnels. E.g. if they have placed products in the cart but haven't proceeded with a purchase, it is a good time to send a special offer to give one last push or sending links of related items that might be in their budget.
4. Use Canva–
We all are not good with our design skills and when it comes to setting your gigs up for sale or awareness campaigns. The biggest headache is your post's design aesthetics, look, and feel. Canva is a mobile app that offers you plenty of platforms from your business category tab, just by clicking it you have hundreds of templates flowing across, just click the one fits into your theme, make the desired changes like adding a picture, and changing the text and off you go. It directly takes you to a publishing platform like Instagram, Facebook.  Melanie Perkins idea got hit among 1 million people just after 14 months of launch- Great need was there – similarly you should also think about latent needs of your customers ;).
5. Use HootSuite–
Having your content ready to shoot, you can schedule distribution to various social media platforms with tools like HootSuite. As discussed earlier timeliness is key, so content which is needed to be shared today might be scheduled a week before with the significance of the day. E.g. Father's day. Hootsuite is being used by millions of people to manage their social media posts ahead of time and engaging users in peak hours.
6. Use Grammarly–
When it comes to writing your content script, Grammarly is a sigh of relief. It helps you with all the necessary tweaking with grammatical errors, syntax issues, and preposition errors right away. It also helps you with simple fixes like adding the article "the" and vowels "an", if the content writer misses on the go. It does make a huge impact on your readers/users' end.
7. Use SEMrush–
One of the influential tool, along with HubSpot and Google keyword planner is SEMrush. It is a must-have in entrepreneurs/ small business owners arsenal, you simply put your competitor's address into SEMrush organic search and it gives you stats on the keyword which are working for them and not working for them. It has a current database of 19.8 billion keywords. Pretty good deal huh?
Low hanging Fruits?
Here are some amazing strategies and low hanging fruits which might cost you nothing if you own them and can generate good results:
8. Blogging
If you like reading and having fun with your business, just write a couple of pages a week. These might be your thoughts about the current business situation, ideas for new business owners and entrepreneurs. Publish your work in the form of a blog on your website's blog page, believe me, it will be a good traffic generator and might get you some good leads for almost free.
9. Social media posts
You have to sit for just one day a week for a couple of hours, use the tools explained above like SEMrush for keyword research, Canva for designing beautiful posts, Grammarly for checking your content, and just schedule your one week's post via Hootsuite.
10. Search Ads
Make your Google Adword's account which might take a couple of minutes and with the lowest possible budget like $1 a day, start showing up in people searches. So you have to keep on putting efforts on showing up in organic searches but you cannot wait for too long especially if your industry is competitive and showing up on searches via organic is a big challenge. This will give you some pretty solid leads and if you give the goods services they can generate word of mouth which can bring in more business.